Training Certification Program
---
PECB Training Certification Program (PTCP)

Many organizations and individuals develop and offer training courses. Unfortunately, the quality of the training offerings varies greatly. How does one differentiate which training offerings are of the utmost quality?
PECB certifies training courses based on the ISO/IEC 17065 standard, which ensure that the processes involved in the course development follow the rigid requirements set forth by the ISO/IEC 17065 as well as PECB Training Certification Program (PTCP) Requirements.
With Product Certification we refer to certification of training materials. PECB is among the few certification bodies that offers an accredited certification of training courses that meet the PTCP criteria. Certifying your training course by PECB means you possess a PECB Certified Course accredited by the International Accreditation Service (IAS).
The purpose of the PTCP standard is to describe the requirements that a training material must meet in order to be certified by PECB. Certifying training materials gives confidence to all interested parties that a product fulfils specified requirements. For the purpose of role definitions, organizations or individuals seeking to certify their training course will be referred in this document as "Training Developer."
This standard specifies requirements, the observance of which is intended to ensure that PECB operates in a competent, consistent and impartial manner. The requirements contained in this Standard are written, to be considered as general criteria for certification of training materials.
PECB is independent and impartial in relation to its applicants and certified products, including their employers and their customers, and take all possible steps to assure ethical operations. These steps include ensuring that someone who has no association with the evaluation process conducts the certification process.
PECB is responsible for all decisions relating to the granting, maintaining, renewing, terminating and reducing the scope, or suspending and withdrawing the certification. The decisions on those topics cannot be outsourced. It has identified the management and the responsibilities for all of its activities.
PECB has a documented structure, which safeguards impartiality, including provisions to ensure the impartiality of its operations and committees involved in the certification process. PECB has implemented this structure to assure its clients that any commercial, financial and other pressures that may be used to sway its decision cannot influence its operations and committees. PECB retains the authority to appoint and withdraw members of such committees.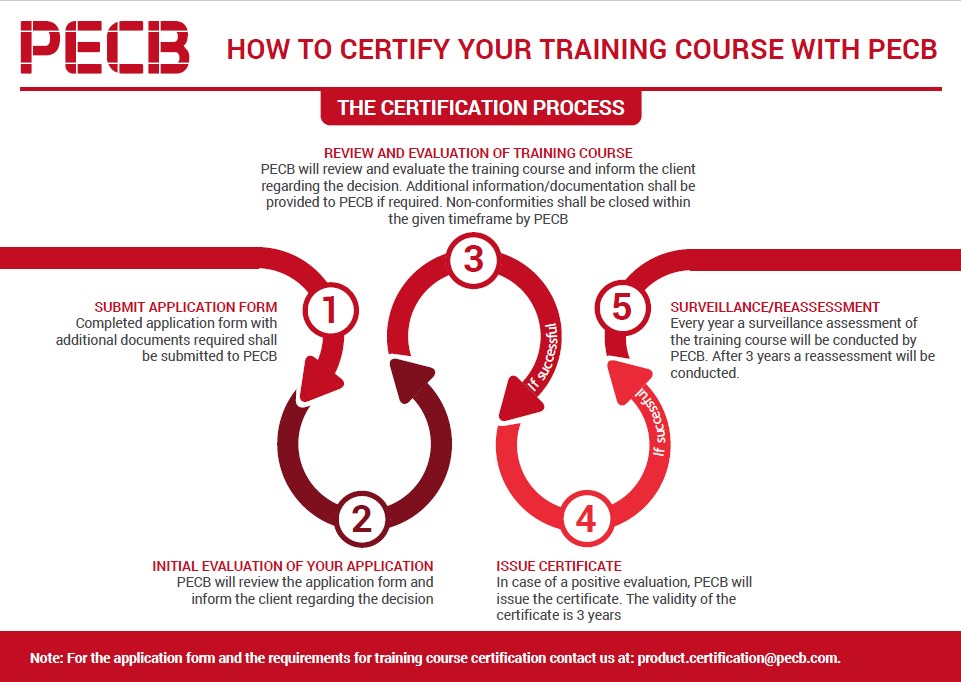 A PECB certified training course is a great asset for every organization as it increases recognition, credibility, and fulfills world-class requirements. Look for PECB certified training courses.
If you are interested to have your course assessed and certified by PECB, please contact us at product.certification@pecb.com so we can initiate the process.